Website Design
Your website is your opportunity to showcase your business in a professional light, to talk authoritatively about what you do, and to give your next customer the confidence to give you a call!

It might also be the solution to some of the operational issues you find yourself coming up against... are people constantly phoning and emailing you with the same questions? Well then write out the answers and we'll whack them bad boys up on your website in a Frequently Asked Questions (FAQ) section!

Are you stuck for content to post on your social media pages? Sick of posting other people's content that just takes your potential clients to their websites? Why don't you blog it up? (Buttercup baby we won't let you down). Each new blog post is a new thing to post on your socials, a new opportunity to show up near the top of some Google search results and most importantly, it's a new opportunity to connect with your audience and to provide the sort of insights that they're actually looking for! We can even get professional copy writers to research your industry and write the blog content for you!

Do you think it's absolutely outrageous that you should actually have to be awake to shift your gear and make some money? We are inclined to agree! So why not get an eCommerce shop website, let us optimise the sweet heck out of it for search engine performance, and start making some Ps while you're catching some Zs!? Let's have a look at some of the technical stuff about your new website...
Device Independent
Responsive web design makes your web site look great on any size screen, whether its a desktop, laptop, tablet or phone. If you're on a desktop or laptop computer right now, try changing the width of your browser window to see how this website can squeeze itself in anywhere like a sneaky octopus!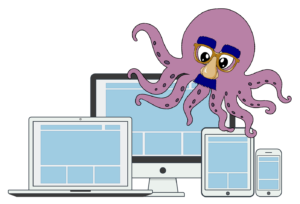 Fast & Secure
A Content Delivery Network (CDN) makes your website more secure and protects it from Distributed Denial of Service (DDOS) attacks! It also makes your website's pages load faster, by caching certain elements in the same way that your browser cache works - by storing certain elements so they don't have to be requested from the server every time a page loads.

Oh and we also throw in your SSL certificate for free! That means the green padlock symbol will appear in the address bar, giving your site users the peace of mind that you're authentic and trustworthy. This symbol shows your visitors that any personal data they enter will be processed and stored securely.
Convenient
When you choose Bigwheel Web Design, your domain name and hosting are included in a monthly payment that covers all that and more! Everything is managed in the same place by the same person, and you only have one monthly website payment to keep track of.

When you choose a blog or eCommerce shop website, we'll also include access to a Content Management System (CMS). This is the back-end of the website from which you and your team can manage your content yourselves in-house. You can add new pages, publish new blog posts and add new stock items to your shop without having to come to us for a new quote.

We'll be doing regular software updates in the background to keep your site secure, and we'll be available to support you during our business hours (Mon-Fri 10am-6pm). We'll also send you a report each month to let you know about your site's Google Analytics performance, software updates and backups we've done, and any extra custom work we've invoiced you for that month.